Requirements for files of illustrations

All illustrations in the submitted manuscript should be placed at the end of the body of text together with their relevant figure captions. If an illustration consists of several parts, they should be arranged one after another and have a common caption. Within the file, illustrations should not be placed in table cells or grouped in any other similar way. The original files of illustrations must be submitted along with the manuscript.

Every illustration file should be assigned a name making it clear which manuscript they belong to and in what order they should be arranged inside the text. Each file should contain one illustration. If an illustration consists of several parts, they should be grouped in the same file providing correct arrangement of their parts.

Vector illustrations should be submitted in a standard file format of the graphics editor used to prepare these illustrations. EPS format is also acceptable.

All other illustrations are acceptable in any standard graphics formats, although TIFF is preferable.

If the Editorial Board is for some reason unable to receive and transfer high-quality illustration files to the publishers, you can submit them directly to the publisher at ced@maik.ru by e-mail either as an attachment or as a link to a file hosting service. Indicate the journal title, issue number, the name of the lead author, and the reason why these files are being submitted separately. Illustrations cannot be used without this information.
Technical requirements for figures/illustrations
The size of illustrations should match either one-column or two-column layout: (8-8.5 cm and 17-17.5 cm, respectively).

The inscriptions and notations in the illustrations may vary between the Russian and English versions of the translation, so it is desirable to provide the second version of photos without the text and designations. In the rest of illustrations, inscriptions should be arranged on the illustration so as to be separated from all its other parts.

Do not add shading or grids to the background of the illustrations.

The frames of graphs with numeral values on the axes must be closed and the tick marks must be plotted inside the frame.

Graphs and charts should be prepared in vector graphics editors (CorelDRAW, Adobe Illustrator, etc.) and presented as files in their native format (*.cdr, *.ai,) or as eps-files. Whenever possible, text should be converted to curves. Vector illustrations should meet the following requirements:
their resolution should be at least 600 dpi;

line widths should not be less than 0.5 pt;

there must be no dotted fill patterns such as "Noise" "Black & white noise", or "Top noise";
Line and halftone illustrations should preferably be in TIFF format and have a resolution of at least 300 dpi.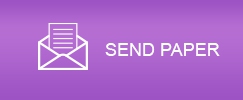 The Russian version of the journal "Teploenergetika" ISSN 0040-3636
The English version of the journal Thermal Engineering
ISSN PRINT: 0040-6015;
ISSN ONLINE: 1555-6301
Editor-In-Chief: Aleksei Dedov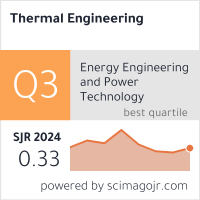 Thermal Engineering is abstracted and/or indexed in:
SCOPUS, Google Scholar, Web of Science (Emerging Sources Citation Index)
Partners